Some huge changes are afoot in Stockport.
The former industrial hotbed is emerging from the shadow of its bigger sister to the North, carving a unique path with its regeneration that is turning heads all across the UK.
So is Stockport now a model of example of how to regenerate a town centre?
They are certainly doing things a bit differently.
The council has waived business rates and offer huge support to local entrepreneurs who are looking to set up in town, and consequently, the town centre has seen a whole host of unique shops open.
In amongst the Tudor pubs, the post war 60s' monstrosities, beautiful Edwardian baroque library and market hall there is a real sense that things are happening here.
Development wise, there's about to be a multimillion pound investment at the Old Weir Mill, a derelict Victorian Mill set to be turned into a thriving new community.
The Cofounder of Capital and Centric who are funding the restoration have promised "to create something very special".
The council have helped fund a much needed multi-million pound redevelopment of the Merseyway to spruce up Stockport's main shopping precinct.
Marks & Spencer have just announced a huge new food hall at the Merseyway, too.
And following a grant application, money has landed from the National Heritage Fund – which has then been matched by Stockport Council – to help create a bohemian hub of independent stores in the Underbanks.
Not only this, the music and cultural scene is buzzing, and lets be honest, the place comes with an amazing music heritage thanks to Strawberry Studios which saw Joy Division, The Smiths, Paul McCartney and 10cc lay down some of their finest work at back in the day.
You can learn all about Stockport's history at the Stockport Museum opposite the Market Hall.
Contemporarily, the world-renowned Blossoms hail from Stockport too, bolstering a rich alumni of famous people to hail from the town.
You can check out the Stockport Music Map by clicking here.
A female led community collective, Underbank Studios sits next to Sleepy Parrot Studios for art too.
There is a lot to choose from and get excited about.
The place is a hive of entrepreneurship, ingenuity and exciting businesses. So we went down to see what all the fuss was about.
Local knowledge
Most of the town's action is centred around Little and Great Underbank, next to Stockport's Market Place.
The Underbanks has become a superb collection independent minded shops, from Top of the Town vintage, Rare Finds, The Plant Shop, Mid Century furniture shop 20th Century Stores, SK1 records, Rare Mags, homeware store Squound, Emiko which sells unisex clothing and the Old Town General Store.
These are only naming a few – there is much more where that came from.
If alcohol is more your thing, Stockport Gin has recently scooped 'Best Gin in Britain' Award. There's also several great breweries in the area: Runaway Breweries, Robinsons, SupNorth, Stockport Brewing company to name but a few.
Theatre buffs can pick from Stockport Plaza, the 30s art deco masterpiece, or the Garrick, 'England's oldest little theatre'.
And there are set to be huge developments in the town both residential and sprucing up Stockport's infrastructure.
Thanks to a multi million pound injection from the Government's Future High Street Fund – the Merseyway, Stockport's main shopping precinct is set to be revamped and re-clad to give it a fresh feel and hopefully breathe some life into a flagging retail centre.
An empty Debenhams is a familiar sight in every city and town in the U.K, not least Manchester.
There have been plans drawn up to turn the site into one of the Government's promised new hospitals, which would be a huge boost for the town centre.
The Council earmarked £7m warchest for the re-development of the Old Town, supplemented by the National Lottery Heritage fund, that helped them to purchase several units that were deteriorating and going nowhere.
The White Lion is now run in conjunction with Trafford Housing Trust who provide homes for social and affordable rent. There is a bar set to open soon downstairs.
The area from the Viaduct up to the Pyramid is home to the Mayoral Development Corporation site that is also set for huge new changes.
There are plans afoot for a lot of new homes in the area, with the majority of the land acquired and ready to go.
Stockport Exchange, a £145m development of Grade A business space next to the train station has seen some huge businesses move in.
Stockport Exchange is already home to brands such as Stagecoach, musicMagpie, Bask, Sainsbury's Local and Holiday Inn.
Community in Stockport
Sophia Barresse, from Top of The Town vintage, located in the Underbanks, spoke to I LOVE MCR about the Stockport community.
Sophia was full of praise for Stockport locals.
She said: "I think both Stockport residents and business owners are really enthusiastic about our town.
"There's a real excitement for change in the area and everyone has been really encouraging around improving the town centre. Since opening my shop, I've been really touched by the support I've received both online and in store."
And this extended to local business owners, who are making a startling recovery from Covid and the cost of living crisis.
"What's really obvious is the great relationship  between all the small businesses in Stockport centre. We're all on the same wavelength, we can see the potential in the area and are committed to working together to encourage people to come down!
"We have a Stockport Independent Traders Association which is a forum set up for all businesses to get together, voice ideas and organise events. It's really lovely."
She said that 'one of her biggest joys of the job' was getting to chat to her new and regular customers.
"I think it's a really wonderful place to discover the joys and excitement of independent run businesses. There's so much on offer here."
Stockport Gin, who initially started distilling gin in their garage were named one of Britain's best gins last year.
Paul from Stockport Gin was quick to sing the town's praises.
"There's a real sense of community spirit here. It's absolutely thriving.
"What's great about the place is the number of independent businesses springing up in town.
"People are really engaging with that and are willing to support the smaller local businesses as they know how much that means to us. They know they will get a much better and friendly response from us compared to bigger brands."
He believes that the local businesses all work together, and have built some great support networks where they can all continue to thrive.
He said they have been lucky to have had help themselves from other local businesses.
"We've had help, and we always try and offer it back where we can. It all just adds to the great sense of community spirit we have down here."
Coral Murphy, is the owner of Emiko who make unique unisex clothing on site in Stockport.
Emiko is named after her daughter.
Coral was full of praise for Stockport, choosing to base her business here over other area in Greater Manchester.
She said: "I honestly love it here. When we first looked for a retail space I was thinking more Altrincham or Chorlton – but I'm so glad we picked Stockport.
"Everybody kept banging on about Stockport being 'up-and-coming' but I didn't really get it until I came here. It's a really happening place with lots of interesting things going on.
"It's got a rich history, and it looks like a bright future ahead too.
"I'm not sure why Indie's are finding a home here, but I think When the Light Gets In with Sam bought a huge buzz, then Rare Mags, we've got a real vibe going on here now.
"There's a lot of development happening too, so the future is looking very bright.
Emiko make all their clothes in store but you can have a look at what they sell here online.
"We make everything on the shop floor, so we use the shop as a manufacturing space. It's great. We love it here.
"They are going to redevelop the Merseyway too, so we're buzzing with what's going on."
Holly Carter, owner of Rare Mags on the Underbanks said she enjoyed the eclectic mix of shops in Stockport.
She owns the shop with her partner Martin Wilson, who have been there for nearly five years.
"Yeah we love it here! We've lived in Manchester for years now, and it's great.
"The trouble with the city centre is that the rents are ridiculous, to own a shop there is just ludicrous. You're insignificant in the city, whereas here we feel much more part of the community.
"Stockport is really interesting at the moment, lots of great weird little spaces."
Holly said that there were less barriers to opening a shop here.
"There's no chains on this street. It's just full of individual businesses. The Council really communicates with us, and that's a huge help. They are really supportive and that's been a great boost.
"Even the MP has been helping out. He had mentioned our businesses and SK1 on good local businesses models. He also got stuck into the Government about re-development funds for the area to help us out too. You really feel like they are backing us up.
Holly was quick to praise the council in the area.
She said: "Instead of bringing in a big retailer to come into empty units, they've funded these amazing local businesses and now you can see how that's had a great effect on the interesting range of shops we've got going on here.
"We all talk to each other. It makes things so much easier because we just work together, we're flexible and put on events with each other too. It's a genuine thing. We collect each other's post when they are away.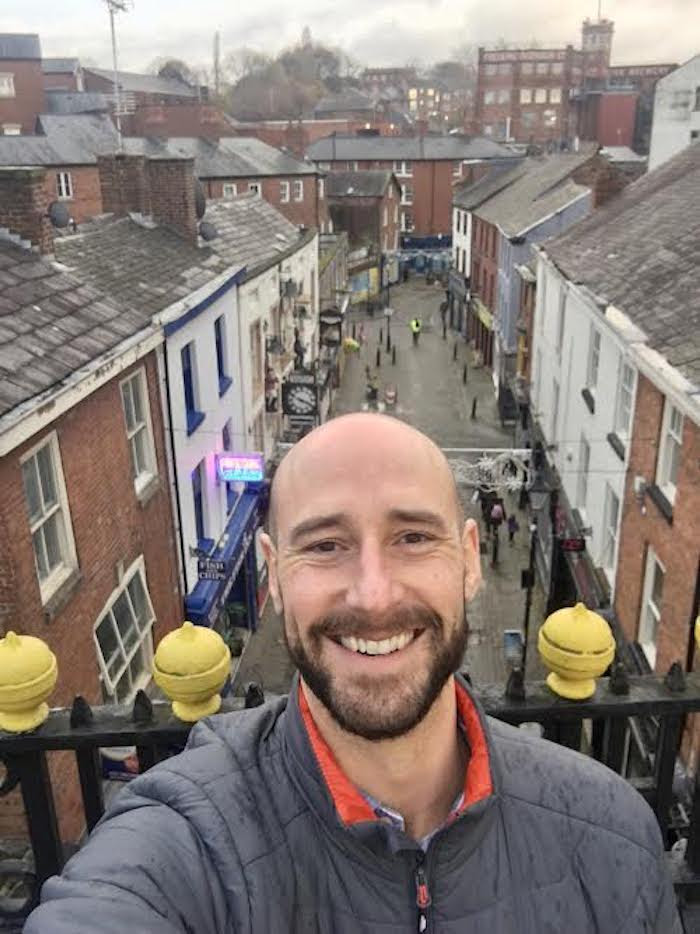 Peter Haymes, Townscape Heritage Manager at Stockport Council has played a key role in the development of the Underbanks.
He said: "It's a really exciting time for the town. Best of all, there's so much more to come.
"Going back to 2019 we were awarded £1.3m from the National Lottery Heritage Fund, which was then matched by the council.
"This helped us to draw in private sector investment too, for building restorations, public realm improvements and an activity programme to engage people with the heritage of the area.
"The businesses have bought into what we're trying to achieve. We're all on a journey together.
"We've created an environment for businesses to move in. We did have some pioneers who really bought into the idea like The Plant Shop, Rare Mags, Where the Light Gets In and SK1 Records.
"They were established before the announcement of the cash, but they were the core that we could build this 'hidden gem' around. The Town has a bit of character about it. It could be Chester, could be York – it's got a great topography and there haven't been too many unsympathetic additions."
Peter said there was a great camaraderie between the businesses owners in town, helped by group events that take place throughout the year.
"Totally Stockport have been drawing a levy off some of the bigger businesses in the town, that is used to fund public events like the Art Battle we had on the site of Debenhams last year.
"We've got more events planned for the new year that just helps bring us all together.
"It's an exciting time for the city and hopefully with all the residential developments coming, they'll have a great community to become part of.
"It's definitely been a bit of – if we build it – they will come."
Transport links
Despite being well connected by train, Stockport's brand new £120m transport interchange is taking shape.
This will include a 196-apartment residential block, new walking and cycling links to the town centre and the Trans Pennine Trail, as well as more than 360 cycle parking spaces.
There will even be a two-acre park on the bus stops roof.
The council and Transport for Greater Manchester has also ensured that the new Stockport Interchange will be 'Metrolink ready' improving connections from Stockport to East Didsbury and Chorlton.
Manchester Airport is a 10-mile drive, so getting away for your holidays is no problem at all.
Best places to eat and drink
Foodie Friday at the Stockport Market has been firm favourite for locals since it kicked off. At last year's Manchester Food and Drink Awards Foodie Friday's creators John and Rosemary Barrett took home the Howard and Ruth Outstanding Achievement Award.
On the last Friday of every month amazing vendors such as: I Knead Pizza, Wrapscallion, Nasi Lemak, Oh Mei Dumplings, Som Tam Street, Artisam, Halloumination and much much more. Food from all corners of the earth comes together to make this a fantastic place to come and have a big feed.
Where The Light Gets In won Restaurant of the Year, too.
Other highly recommended restaurants and bars are:
Mekong Cat – Authentic Asian noodles focussing on food from where the Mekong River runs through. Owner Y Sok was born in the heart of South East Asia and spent 'most of her life' perfecting cuisine with recipes passed down from her mother, family, friends and neighbours.
The Spinn Off – The Spinn Off is a no-nonsense bar located right in the heart of Stockport, serving up good drinks, quality cocktails & locally brewed beers. Sounds perfect to us!
BASK – Bask is Stockport's first bar at Stockport Exchange (near the train station) – They have live music, DJs, comedy, Worldwide beers, comedy and amazing cocktails.
The Produce Hall – Through its 160+ year life, the Produce Hall has hosted fish and meat markets, cheese stalls, sweet shops and even a public library. Now it's host to amazing food  and classy bar in a beautiful open setting just next to the Market.
Rozafa – Rozafa Restaurant & Tavera serves the finest Greek and Cypriot cuisine, and has been in business for over a decade now. And they come with some pedigree too having won Best Restaurant in Manchester then the coveted Best Restaurant in England 2022 during the November finalist ceremony, held in Birmingham.
Café San Juan – Cafe San Juan serve up some amazing Colombian food, and has long been one of the 'best kept secrets' in Stockport since they opened. They serve amazing empanadas, deditos (wheat dough-wrapped halloumi sticks) papa's (San Miguel battered potato balls stuffed with choice of chicken, brisket or beans) and much much more.
The Petersgate Tap – Regularly featuring on the Good Beer Guide, the Petersgate Tap has built up a big following and list of regulars because of their class selection of beer.
Notion – Based on Vernon street this "dive bar" serves some great cocktails in a fun and laid back atmosphere. The interior mimics that of a classic dive bar – with graffiti inspired walls using every available space to create a grungy and underground atmosphere. 
Where the Light Gets In – Comes with a huge reputation and delivers. Under Sam Buckley's stewardship WTLGI was was awarded a 'green' Michelin star for sustainable gastronomy in 2021. There is no menu, so  the experience changes with the days and seasons. But we promise you won't be disappointed.
Cherry Jam – Another great Independent to buy cocktails from, you can also take part in 90 minutes of bottomless cocktails if you're feeling thirsty. Comes with an afternoon tea and grazing board too for munchies.
Yellowhammer bakery and pottery – a bakery and pottery studio on Stockport's Lower Hillgate, which also includes a Deli. Another Sam Buckley Project to go with Where the Light gets in.
Laco Cafe and Bistro – A lovely little cafe on 'little Underbank' which sits at number one on Stockports trip advisor reccomendation. Think Sandwiches, teas, coffees and light bites.
Hillgate Cakery –  Hillgate is another great cafe in the Underbanks with vegan cakes and treats.
Glitch – Glitch is a new concept for Stockport, a games bar where you can relive your childhood with some amazing retro games like Donkey Kong, Space Invaders and Pac-Man
Stockport also has a new speakeasy bar set to open next year, called Bohemian Arts Club.
Parks and Recreation
There are plenty of great parks to pick from in Stockport and the surrounding areas.
Bramhall, Lyme, Vernon and Bruntwood Park are great options nearby.
Etherow Country Park is a wonderful place to go for a day out surrounded by beautiful scenery, multiple lakes and walkways.
Heaton Norris Park is great for a stroll, and Alexandra Park decent too.
House prices
House prices in Stockport are very reasonable compared to the absolute chaos currently gripping Manchester's rental/housing market.
Properties in Stockport had an overall average price of £279,236 over the last year.
The majority of sales in Stockport during the last year were semi-detached properties, selling for an average price of £300,471. Terraced properties sold for an average of £218,836, with detached properties fetching £497,856.
Overall, sold prices in Stockport over the last year were 3% up on the previous year and 14% up on the 2020 peak of £245,033.
This is the Place is the name of a poem by Tony Walsh commissioned by Forever Manchester, a local charity that raises money to fund and support community activity across Greater Manchester. And they can't do it without your help. So donate what you can because investing in your local community to help it thrive can be a hugely rewarding experience. There's a unique sense of satisfaction in knowing that you are making a real difference in the lives of others, especially those close to home.